Justwealth Group Savings Plans
A Digital Plan That Offers: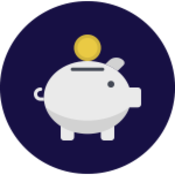 Low-Costs
 Free to the Employer
 Discounted, low-cost management fee of only 0.40% to the employee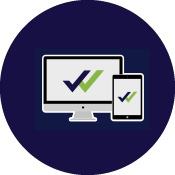 Easy Administration
 Simple and convenient online processes
Optional Administration by SEB Administrative Services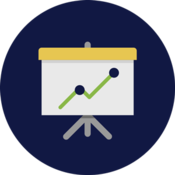 Sophisticated Investment Management
 Investments managed to a Fiduciary Standard
Automated investment selection & daily monitoring
 Partner with Justwealth – a regulated Portfolio Manager with a fiduciary duty to act in your Employees' best interests
 Flexible offerings: RRSPs, TFSAs, or both? Voluntary or Mandatory contribution? Matching employer contributions?
 Easy set up: Completely online processes
 Centralized digital hub personalized to your company
 Easy contributions: Optional administration offered by SEB Administrative Services offers direct draw from payroll providers into employee accounts
Starting from scratch?
Set up is easy – reach out to a Justwealth representative today
Switching Plans?
Justwealth offers easy online transfer of existing accounts
Have an existing Plan?
It costs nothing to add Justwealth to complement your existing plan
Working with a Group Benefits Advisor?
Justwealth has an Advisor Partnership Program to accommodate them
Studies show that a strong group savings plan as part of an overall group benefits scheme can improve Employees' workplace satisfaction!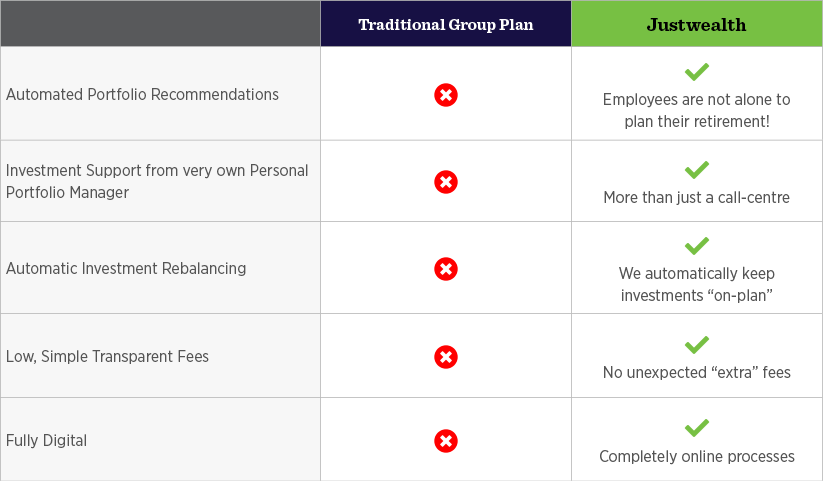 The impact of fees on your investment portfolio
How important are fees? Justwealth's award-recognized, low-cost investments can help plan members' savings grow faster to reach retirement goals!
Illustrative Impact of Fee Savings on a $30,000 Group RRSP investment with Justwealth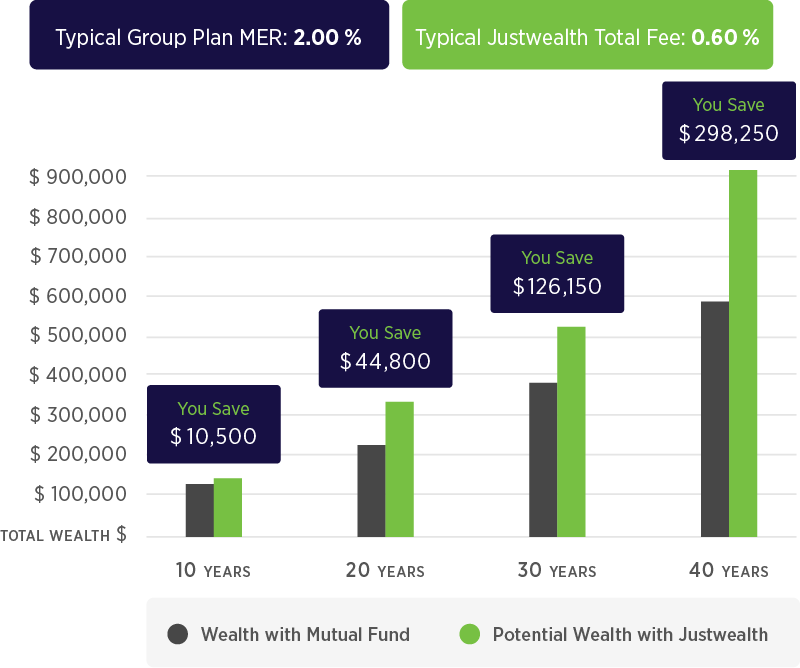 Both calculations assume $30,000 investment in a non-taxable account with a gross return of 6% with annual contributions of $5,000. Savings reflect rounding. Justwealth Total Fee includes discounted management fee of 0.40%, and average ETF management fee of 0.20% for Total Fee of 0.60%. If plan sponsor is working with a benefits Advisor, an Advisor  Referral Fee of up to 1.00% may apply in which case illustrated cost-savings would be lower. Traditional group plan fund fee is illustrative based on industry data points.
Justwealth – A Recognized Industry Leader
Have a question? Call us at 1.866.407.JUST or email us at info@justwealth.com