At Justwealth, we take great pride in what we do. Every day, Canadian investors trust us to manage their hard-earned savings so that they and their families can have a better future, and that's a responsibility that we don't take lightly.  That's why we're always striving to provide our clients with exceptional service, while maintaining the utmost transparency and integrity throughout. It's what we feel our clients deserve.
We were honoured to learn that, in their report released on July 18, 2019, The Digital Finance Institute named Justwealth as one of the Top 50 FinTech Companies in Canada! To be named alongside so many great Canadian finance companies is humbling to say the least, and we cannot express the appreciation we have for our inclusion in this report. We'd like to thank our valued clients, partners, and stakeholders for their continued support, as we know we'd never have made it this far without them.
The Digital Finance Institute's announcement, as well as a link to their report, can be found below.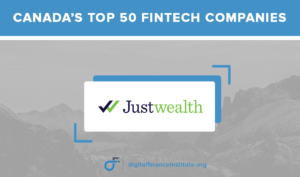 Canada's 2019 Top 50 FinTech Companies
The Digital Finance Institute is pleased to release its list of Canada's Top 50 FinTech Companies.
To prepare the list of Canada's Top 50 FinTech Companies, the Institute conducted market research and informational interviews with stakeholders to gather data to help identify the leading companies in Canada.  A number of factors, such as disruption of service, scalability, growth, external adoption and innovation were taken into consideration when compiling the list of the top 50 companies.  In assessing the factors, we standardized the ranges of numeric variables and measured each company's score index by calculating the weighted average under the comprehensive consideration of the determining factors listed above. The companies listed represent a wide diversity of sub-sectors in FinTech, capital markets, insurance, Blockchain, RegTech, payments and finance.
We are grateful for the input and insight we received from the FinTech and finance community across Canada while researching this report and congratulations to all of Canada's Top 50 FinTech Companies.
The Digital Finance Institute is a think tank for digital finance with three foundational pillars – financial inclusion, responsible innovation, and support for women in FinTech. Today, the Institute is run by Millennials, which we believe is important for Canada's digital economy revolution.  In our work, we represent a strategic link in the digital finance ecosystem among the financial services sector.  NGO's, academia, financial regulators and policy makers to promote financial innovation and vibrancy through thought leadership, engagement, advocacy, research and education.  That strategic link comes together at APEC 2019, for example, where the institute is invited to give a talk on AI, banking and regulation to the 21 member countries, which helps promote Canadian innovation.
Twitter: @DFInstitute
LinkedIn: Tag us @Digital Finance Institute (https://www.linkedin.com/company/digital-finance-institute-/)
URL: http://www.digitalfinanceinstitute.org/?post_documents=canadas-top-50-fintech-companies
Hashtag: #Top50FinTech