Justwealth is thrilled and delighted that our client Mat Yorke will receive an NBA Championship ring for his role as part of the 2019 NBA Champion Toronto Raptors! Mat has graciously offered his time to answer a few questions to let us share his experience with our fellow Justwealth clients.
Justwealth (JW): How long have you been working with the Raptors and what is your current role with the team?
Mat Yorke (MY): I've been with the Raptors for 11 years now and I'm currently the Assistant Equipment Manager in the Equipment Staff and Basketball Operations Department.
JW: At what point in the season did you have a sense that this was going to be "the year"?
MY: From the beginning of the season, I knew we were good and I knew we had a close-knit group of players.  After the trade deadline, we brought in some good players and I knew the guys would fit in well with the rest of the team. But honestly, I didn't think it would be our year until game 5 against the Milwaukee Bucks in the Eastern Conference Finals. Something very special happened at that time and I knew nothing was going to stop us – not even the Golden State Warriors.
JW: How easy or difficult has it been to be around the players throughout the playoffs?
MY: There really isn't a difference between the regular season and playoffs when communicating and working with professional athletes. The players know the support staff and in the playoffs, they go about their business and interact with us the same way. They are just regular people at the end of the day – I have especially close relationships with Kyle Lowry and Pascal Siakam. Nick Nurse did an excellent job of continuing the great culture that Kyle and Demar had established in previous years.  Danny Green is a great guy and when he first arrived in Toronto he introduced himself to all the staff and ball boys/girls and made sure that he remembered everyone's name. Kawhi is a quiet person but he definitely is a "fun guy" and would always laugh when he handed me his jersey after a game. When working with pro athletes, you have to prove that you don't have a hidden agenda and if you respect them, they will respect you. A few things that change in the playoffs though is having the league staff coming in and having their hands in different aspects of our preparation.  The schedule is definitely more hectic because, for the most part, you are playing every 2-3 days and usually travel is involved between them. Overall, it's all worth it in the end.
JW: How was the experience of the Championship Parade?
MY:  Very Cool Experience. The City of Toronto really showed it's love and appreciation, just like the entire country did throughout the playoffs – what amazing support!  I had to keep telling myself that this doesn't happen often – the last time Toronto had a championship this big I was only 10 years old so I'm really glad I was able to experience it. I soaked it all in (champagne included) and it was a cap of an amazing year and I'm really happy my family got to enjoy it as well, they have sacrificed plenty for this so it was wonderful for them to share in this joy.
JW: How long do you plan to celebrate the championship win?
MY: A while!! For me, it's been 11 years in the making so I'm going to make it last a long time!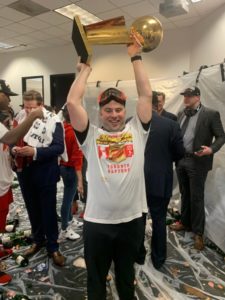 Congratulations and Thank You to Mat and the Raptors!