The Tax-Free Savings Account (TFSA) is an account that offers tax benefits for saving and investing in Canada and when used appropriately can be an integral part of your overall financial plan. The TFSA was originally created back in 2009 and the features were revolutionary at that time and almost 10 years later, it's still a very popular investment vehicle.  Here are a few of the features that you should know when investing within a TFSA:
Eligibility
If you are a Canadian resident who has reached the age of 18, you are allowed to have TFSA. If you are turning 18 this year, you will have to wait until your birthday in order to open a TFSA but at that point, you will receive the full TFSA dollar limit.
Contributions
The TFSA started in 2009 and anyone that was 18 or older in 2009 would have been able to contribute the following amounts in a TFSA:
Years

TFSA Dollar
Limit

Cumulative
Total

2009-2012
$5,000
$20,000
2013
$5,500
$25,500
2014
$5,500
$31,000
2015
$10,000
$41,000
2016
$5,500
$46,500
2017
$5,500
$52,000
2018
$5,500
$57,500
If you were at least 18 years of age in 2009, you now have accumulated a total contribution limit of $57,500. Unlike an RRSP, a TFSA contribution limit is not linked to your earned income and if you do not use all your contribution room in one year, it can be carried forward indefinitely.
For those that turned 18 after 2009, say for example 2014, you would have the following contribution limit:
2014= $5,500
2015= $10,000
2016= $5,500
2017= $5,500
2018= $5,500
Total Contribution Limit is $32,000.
It's important to keep track of your contribution limit yourself but the Canada Revenue Agency can help by visiting your "My Account" section on their website or you can call the CRA to get your balance.
Withdrawals
If you decide to remove money from your TFSA, it is tax-free and any amount you remove will be able to be re-contributed the start of the next calendar year.  For example:  If you withdraw $5000 from your TFSA in December 2017, that $5000 will be added to your 2018 Contribution Limit.
Allowable Investments
Despite having saving account in its name, a TFSA is more than just a savings account, you can hold a wide range of investments and securities inside a TFSA. The following list of investments are allowed to be invested with a TFSA:
–    Exchange Traded Funds (ETFs)
–    Stocks/Bonds
–    Mutual Funds
–    Cash/GICs
Our friends at Ratehub have produced a friendly video which gives you a deeper look into TFSAs. (click the image below)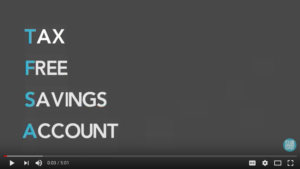 No matter your age – young or old – a TFSA may be a good choice within your investment portfolio and if you have any questions about how to utilize it, please do not hesitate to contact your Justwealth Personal Portfolio Manager.
Justwealth Financial Inc. does not provide tax, legal or accounting advice. This material has been prepared for informational purposes only, and is not intended to provide, and should not be relied on for, tax, legal or accounting advice. You should consult your own tax, legal and accounting advisors before engaging in any transaction.