Welcome BenefitHub Members!

Open your Justwealth account today and begin investing in your retirement.
Save up to 70% on your investment fees with BenefitHub and Justwealth and grow your wealth faster than with mutual funds (1).

(1) Source: Justwealth and Investor Economics & Strategic Insight, The Investment Funds Institute of Canada.
Based on a total fee with Justwealth of 0.65% versus a typical mutual fund fee of 2.20%, assuming equal investments and identical returns.
Justwealth vs Traditional Investment Providers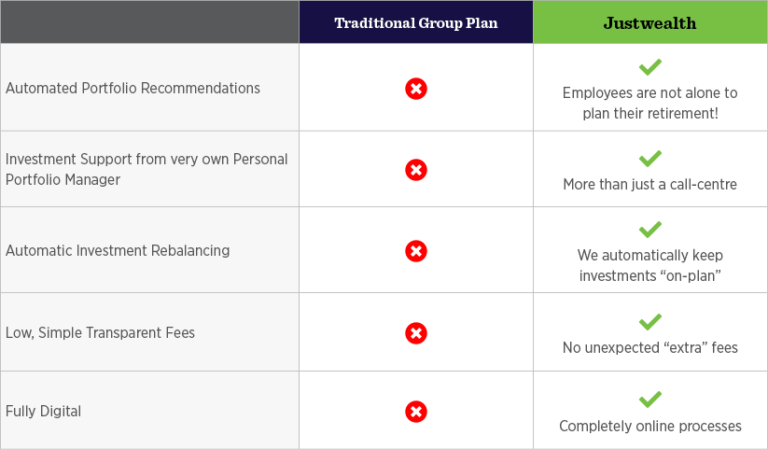 Plus our special offer to BenefitHub users

:
BenefitHub members must maintain a monthly contribution of at least $50.
No minimum balance required to open an account. (1)
 Discounted Justwealth management fee of 0.40% (2).
**Note: You MUST establish a minimum $50 per month pre-authorized contribution to take advantage of the BenefitHub special offer.**
(1) While no minimum account balance is required to open your Justwealth account, you must have
a minimum balance of at least $300 prior to Justwealth investing on your behalf.
(2) Minimum monthly fee of $2.50 applies in any month during which the calculated management fee is less than $2.50.
A GroupBenefitz/BenefitHub referral fee of 0.05% also applies.
The impact of fees on your investment portfolio
To see just how important fees can be, consider an investor with $100,000. A Justwealth client would pay a low annual management fee of 0.45%, plus (on average) an additional 0.20% in ETF management fees. A typical mutual fund charge 2.20%.
What would you do with the extra money?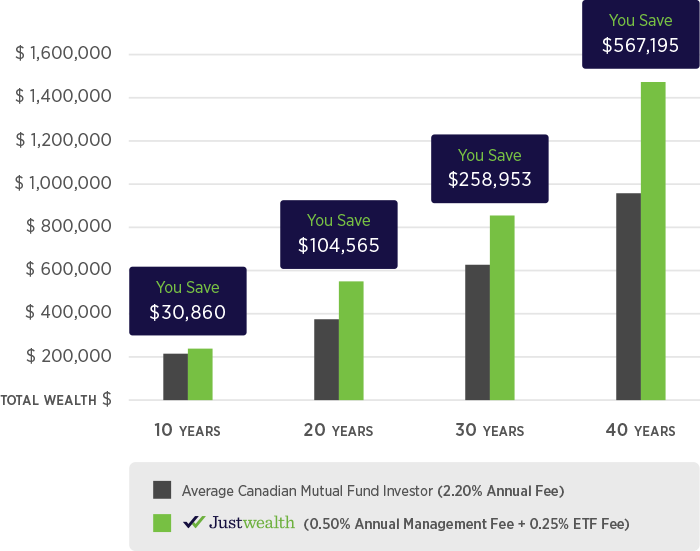 **Disclaimer: Both calculations assume $100,000 investment in a non-taxable account with a gross return of 6% and an annual contribution of $5,000. Average Canadian Mutual Fund Investor fee is 2.20% (Source: Investor Economics and Strategic Insight: The Investments Funds Institute of Canada May 2015) and Justwealth Investor is 0.75% (Justwealth fee of 0.50% and average ETF management fee of 0.25%)**
Justwealth – A Recognized Industry Leader
Have a question? Call us at 1.866.407.JUST